Convention 2013 - October 12th and 13th, Milton Keynes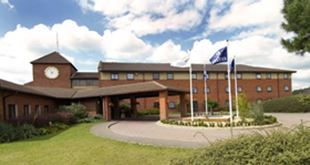 The Hilton at Milton!
Another successful convention in a new city.
The four star Hilton Hotel at Milton Keynes provided a perfect venue for us and members who attended our thirteenth convention seemed to be unanimous in their praise of the hotel facilities and food. The convention program offered something for everybody with a balance between commercial bottles and antique and decorative bottles.
Milton Keynes was selected as our venue partly because it is 60 miles nearer to London than the previous two years at Leicester and has excellent transport links by road, rail, bus and air (and canal in Adrian Horsham's case). Some members were somewhat fazed by the legendary roundabouts in Milton Keynes but nobody seemed to have major problems finding the hotel.

As usual quite a few people arrived during Friday and many went to nearby Bletchley Park to the wartime code breaking centre. Plenty of interesting exhibits and so little time but, never free from obsession, some managed to find a small perfume bottle collection amongst a museum of 1940s artefacts. Back to the hotel in time for dinner and some setting up of display cabinets and filling of goody bags ready for Saturday morning.

Angie Holmes opened the convention in the morning and began by welcoming our visitors from outside the UK; Phyllis Dohanian making the long journey from Boston once again, Gerda and Gilbert from Germany, Stefaan and Tom from Belgium, and special welcomes to Jeffery Sanfilippo, current IPBA President and Rusty Hernandez from Chicago and also to five first time attendees: Sally Dunlop, Tracy Clohessy, Caroline Carr, Gail Cherowbrier and Alan Merrington.

Jeffrey started the program with an update on IPBA topics including the Young Collectors initiative and the 2014 convention in Pittsburgh. Trudi Sutherland from the UK office of Heinz Glas, a very long standing – 1622 – manufacturer of high quality perfume bottles, then described the development of the company and the techniques used in the making and decorating of current commercial bottles. Some fascinating videos showed the factory production line and the massive scale of the process.

After a delicious lunch in the restaurant we were entertained by Henry Sandon, a senior member of the BBC Antiques Roadshow team, who spoke about Worcester scent bottles. Henry demonstrated his deep knowledge of the Worcester company and their scent bottles and his humorous asides during his talk kept everybody interested from start to finish.

Raluca Burns, our only Milton Keynes member, gave an excellent presentation about her massive collection of Goya perfume bottles and other products. Her collection must be one of the most comprehensive in the world and she also easily broke the record for the most slides in a presentation – there were over 360! Raluca's knowledge and enthusiasm for her collection were very evident during her talk.
After a short break we had another Collectors Market where members were able to sell or swap unwanted items in their collections to other delegates. This was followed by the screening of a presentation prepared by Susan Arthur for the Las Vegas convention which celebrated the 25th year of the IPBA. Jeffery Sanfilippo presented the slideshow which included photos of many people that have been to one of our conventions and are known to UK members.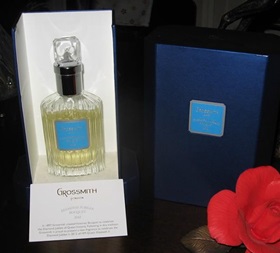 After a short beak we reassembled in the Cranfield Suite for a hot buffet dinner followed by an amusing after dinner talk by Henry about some of his experiences at the Antiques Roadshow.
The popular mini auction goes from strength to strength and with the help of Chris Hipkiss' auctioneering skills, this year raised over £800. A limited edition Grossmith Diamond Jubilee Bouquet bottle (number 13) generously donated by Simon and Amanda Brooke attracted the most interest and went for £200. Bottles donated by Henry Sandon from his wife's collection also attracted some high bids. Many of the items were won by our friends from America. Later, a bottle of Atkinson's brand new perfume, '24 Old Bond Street' donated by John Bailey and other donated bottles were raffled between delegates.

Sunday morning started very early as usual with dealers setting up their tables in the Cranfield Suite and the doors opened to members at 9:15. Our Sunday morning speaker this year was member John Bailey who is currently President of the British Society of Perfumers. John, in his own inimitable style, described his work with the new owners of the Atkinson's brand with the help of Sheila and there were plenty of hands on opportunities with the scents involved. John also talked about a new book celebrating the British Society's 50th anniversary: 'British Perfumery – A Fragrant History'.

The public were admitted to the sale room at 11:00 and there was a small but steady stream of people. We were more successful than other years when we signed up three new members.
After another tasty lunch the enormous raffle which raised a record £500 was drawn and then it was time to wind down what had been a successful and enjoyable convention. These weekends are a real team effort with everybody helping in some way to make it a success but special thanks must go to everybody who contributed towards the goody bags and raffle and those who gave their time to promote the weekend and to set up and decorate the room.
The hotel was widely praised by almost everyone with the food and the Cranfield Suite attracting particularly good reviews. The Committee and members generally were happy that we provisionally book the hotel for the 2014 convention. So, dates for next year's diary: September 27th and 28th. We need to be sure that this doesn't clash with other shows or meetings on these dates – if you know of any other events please let me know. Hopefully we won't clash with the BCCS next year!

Photo Album»