Convention 2015 - September 26th and 27th, Leicester
The Holiday Inn
Our biggest and Best! by Terry Emmony
Our fifteenth convention was hailed by many as our biggest and best so far with 76 delegates and a full programme of events and activities. This success was due in no small part to the participation of a touring party of 33 American IPBA members, lead by IPBA President Jeffrey Sanfilippo, who started their European tour with our convention. Our venue was the Holiday Inn in Leicester city centre, where we had also held our 2011 and 2012 meetings, and the facilities and catering were again rated highly by delegates.

The weekend began even earlier than usual for Penny and me with the early arrival of Steven and Roslyn Shulman from California on Thursday. They toured the historical parts of the city during the day and later we all dined at Maiyango, one of several quality restaurants close to the hotel.
On Friday morning we delivered the second full car load of things needed for the convention. The hotel had helpfully allowed us access to the Leicestershire suite on Thursday so we were able to unload and start setting up for the convention. At lunchtime a coach load of tired but excited Americans arrived from Heathrow and the check in process was completed quickly and painlessly.


We had arranged for two groups to visit the King Richard III visitor centre and the tourists gamely reappeared in reception at 2pm for the short walk to the centre. Everyone seemed impressed with the centre, the nearby Cathedral with the final resting place of the King and several tableaux of life sized sand sculptures of King Richard. However, having missed lunch, hunger started to take over and many of the group dispersed to find cafes and restaurants.

Later, and now joined by lots of UK members, some had dinner in the hotel restaurant while others explored the nearby restaurants. We then had the traditional Friday night chores: making up the goody bags and a skirmish with our two flat pack glass display cabinets that eventually were successfully assembled.

Saturday morning as usual passed in blur of last minute preparations, meeting friends and panicking. The lap top, projection and audio equipment all worked fine and the speakers were all present. The projector was a vast improvement over previous years being ceiling mounted so the laptop could be to the side of the screen. The image was much bigger, higher and clearer. Volunteers worked at finishing the goody bags, decorating the room, setting up the raffle tables and the display cases. Paula and Colin on the registration desk were busier than they have ever has been.

As in other years members produced three perfume displays: Gerda collaborated with Ruth Warner to set up a display of 4711 perfumes, a second display contained Chanel miniature presentations and cards from Angie and Penny's collections and a third had some examples of art glass bottles.
Our goody bags were a challenge this year because we needed so many of them. Thanks to contributions from many members though we managed a few interesting items.  Special thanks to Ollie Hitchen and Phyllis Dohanian who weren't able to come this year but still posted donations to us. Many thanks also to the IPBA for the goody bags themselves; canvas 'tote' bags with the Association name and logo.

Thanks also for donations from many members to the raffle. These more than filled four tables and contained something for everyone. Twenty six of the more valuable items were withdrawn from the raffle for the after dinner auction. Our usual system of a pot for each prize allowed people to target their tickets at selected prizes.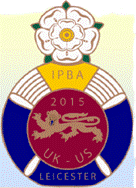 This year we had our very own convention pin. It was designed by Madeleine Winklemann who has designed the IPBA convention pins, and they were selling briskly during the day.  (They are 3cm tall and are still available at £6 each + p & p.)

Shortly after 11am, only slightly late, Angie opened the convention and welcomed visitors from overseas and first time UK delegates. Members from Portugal, Italy, Germany and Belgium and 37 American visitors meant the total attendance was a record 76.

Jeffrey Sanfilippo updated members about IPBA matters and described his exciting plans for a purpose built  perfume museum on the Sanfilippo estate.
Our Keynote speaker, Andy McConnell, glass expert and star of the BBC Antiques Roadshow was next and his talk "The Scent Bottle: The Jewel in the Glass Crown" was entertaining and informative. Andy made many people sit up when he mischievously remarked that he "understands there are people who are collectors of perfume bottles with labels on" and that he thought they should "get a life!" He was close to losing his at that moment!

A buffet lunch followed and this had a theme of "a taste of Leicestershire" including pork pies, cheese and some spicy local food.
Yvonne Redgrove then presented her latest favourite bottles and the audience was impressed with her obvious love for her bottles.
Monica Magnani presented slides of some of her scent bottles.  We had already had a presentation about glass and one about glass commercial bottles and Monica decided to highlight bottles and containers made from china, silver and many other less common materials.
Jeffrey Sanfilippo led a presentation that he had put together from contributions from the tour party. Each member had provided one or two examples from their collection and they explained to the group why they started collecting and why their collection meant so much to them.
The afternoon ended with a short session of "show and tell" with members showing their deep knowledge of bottles in commenting on unusual examples shown on the screen.

Delegates reassembled at 6:30 for a buffet dinner, generally acclaimed as delicious, followed by the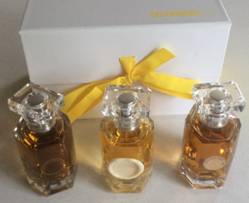 delegates free raffle (a set of three Selfridges bottles worth £50, won by Sharon Grierson) and our now traditional auction of donated items with Chris Hipkiss again being an entertaining auctioneer. There were many items this year and some were fiercely competed for.  We raised an excellent total of almost £1,350 for club funds.

During the evening Deborah Washington made a presentation of the Association's Shining Star award to Gerda Marshall; a well deserved reward for her work over many years as International Vice President and for many other tasks she has undertaken in support of the IPBA. The UK Chapter has always benefitted from Gerda's talks, donations and infectious enthusiasm.

Sunday started very early for our traders and they were setting up their tables ready for the opening of the saleroom at 9:30. We had been concerned that we might not have many traders and collectors this year because for various reasons many of our treasured 'regulars' were missing. However, some new faces filled the gaps and ensured that we had a wide choice of collectables available. Business was brisk with many more buyers than usual. In the afternoon there was even more choice with the opening of our second Collectors Market for delegates to sell or exchange from small tables.

The very large raffle was drawn later in the afternoon and the convention wound up soon afterwards. In closing the convention Angie thanked everybody for their support and for generously donating all sorts of items to the event, helping to make it another successful convention.
There was just time after packing up the sale room for a trip to take the first car load of stuff home - including the two display cabinets that had come apart much quicker than they were put together....  While most UK members set off for home, the American tourists had one more night in Leicester and had dinner in local restaurants with Prezzo (Italian) and Mem Saab (Indian) being popular.
Many delegates said how much they had enjoyed the weekend with some Americans and others saying they would come back next year if we returned to Leicester.

On Monday the tourists had a very long day travelling first to the Harris museum in Preston and then to their new base in London. In Leicester meanwhile, together with the remaining delegates Gerda and Gilbert and Deborah, we took a car load of the remaining convention items home and looked at yet more perfume bottles....
Keynote Speaker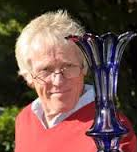 We were delighted that Andy McConnell agreed to be our keynote speaker at the convention.
Andy is one of Britain's leading authorities on glassware of all types, and his books have covered the subject from 1650 to the present. He was the first glass specialist recruited to BBC TV's Antiques Roadshow, for which he has now recorded ten series. He lectures widely on glass and writes for journals as diverse as The Times & Daily Telegraph, Country Life, Homes & Antiques & Glass Circle News.