Convention 2007 - Our Latest Convention Success!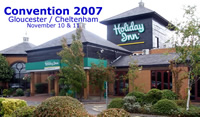 Our seventh annual convention, was thoroughly enjoyed by those that attended. For the first time we left the M25 and the London airports to hold the annual event near Gloucester in the west country. We chose the Holiday Inn between Gloucester and Cheltenham as the venue and the Sheridan Suite proved to be an almost perfect location.

On Saturday we held a program of presentations and club activities and ended with a hot buffet in the evening. Chris Hipkiss was once again a very entertaining MC, doorman, sound engineer and (sometimes) comedian. Sunday, as usual, was a table top sale with member/dealers offering thousands of bottles for sale.

Angie Holmes, Chair of the UK Chapter opened the meeting, welcoming almost 30 members and partners, including eight for the first time. Angie then read a message from Jay Kaplan, IPBA President who was unable to attend the convention as planned.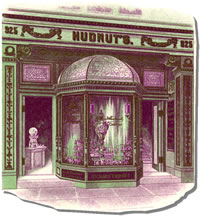 Members were shown a wonderful slide presentation originally made by Helen Farnsworth, the IPBA Archivist, at the IPBA Atlanta convention

earlier this year. Entitled "In the Perfume Shop" the talk described the early days of retailing perfume with examples of 'Point of Purchase' marketing and store displays. Included were many photographs of pins, cards and factices. Chris Hipkiss gamely read the script which included many difficult French names.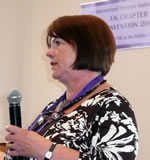 Penny and Terry Emmony then gave a report on the judging process for the Fragrance Foundation UK's 2007 FiFi awards and the charity award dinner (in aid of the Teenage Cancer Trust) held at The Dorchester in April.

After a brief break for lunch, the day continued with a session that has been popular at all of the US conventions - 'Treasures Found'. Using a webcam, mystery bottles are displayed to a panel of experts (in our case, the whole group!) for them to identify or provide more details. Several members offered their bottles and we were successful in solving most of the mysteries. A far-eastern bottle from Penny left many people speechless however.....


The workshop to build an archive of Yardley bottles and ephemera didn't quite work out as a plenary session but did lead to a large and impressive display of items from member's collections. Lornamead, the new owners of the Yardley name, kindly sent some rare bottles and photographs from their archive to start us off. A section has been added to this web site to show photographs of the collection.
(We plan to choose another British perfumer next year and continue to eventually build a comprehensive record of UK perfume houses.)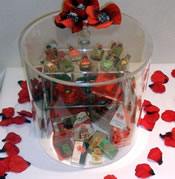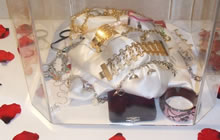 To complement the English theme of the Yardley session and also because it was Remembrance Sunday, Paula Sedgwick put together a lovely display of Californian Poppy bottles from her collection, decorated appropriately with poppy petals. Penny also displayed some perfume bracelets from her collection.




We were very happy to welcome George Stam and his business partner Christian Savioz from Switzerland to the convention and George's talk was the highlight of Saturday's events. George, who is the IPBA International Vice President gave his acclaimed presentation to the IPBA Atlanta "Gone with the Wind" convention earlier this year entitled "Frankly my dear, I prefer Baccarat". The talk was illustrated with photographs of many beautiful and valuable bottles.
Saturday's events ended with a buffet meal in the other half of the Sheridan suite after which members retired to the bar.

Sunday's sale proved to be interesting with a variety of dealers present, four for the first time. Bottles on offer ranged from very inexpensive 'entry level' to valuable and expensive collectors items, as well as giant display bottles and plenty of ephemera. One group was even spotted playing 'cards' on the floor of the sale room.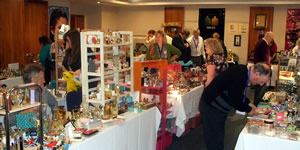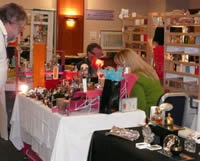 The number of members of the public coming into the showroom was disappointing, given the considerable amount of effort that had been put into publicising the event, both locally and by flyers given out at various recent shows. However, we were pleased that several members of the BCCS came to the sale with some even joining the UK Chapter!

The raffle was an entertaining part of Sunday - we had many, many prizes - all donated by members - and competition for some prizes was fierce. We raised almost £200 for club funds, so thank you very much to all those who donated and to those who bought so many tickets.

Photograph Album»
---